Telemonitoring & Telecare:
New markets with a huge potential…
 …for optimization of quality in medicine by tele-/home-monitoring solutions for mobile, chronically ill patients, the elderly and for post-operative care.
Telemonitoring of e.g. blood sugar, blood pressure, ECG or weight is widely accepted and already part of doctor's routine in modern hospitals and health service environments. It increases patient compliance, safety and patient satisfaction, but also supports medical experts in their daily work. As a result it generates cost saving effects on the one side as well as quality improvement of medical services and patient compliance.
The Temondis approach:
Basis of the TeleMonitoring and TeleCare solutions from Temondis and its partners is the holistic Temondis TPC Telemed-Platform-Concept e.g. for telemonitoring patients at home or on the move.
Our solutions cover user-friendly, simple and secure tools for patient interaction with medical doctors, medical call centers or healthcare providers as well. Self-monitoring and tele-coaching features enable users to have direct access to their care provider. The implementation of mobile and easy-to-use Mobile Data Gateways (MDGs) for mobile patients and also senior care allows easy vital-data transfer, fall-detection and emergency call whether at home or on the move or during travelling.
Features:
With its TeleMonitoring and TeleCare solutions Temondis provides a highly sophisticated solution-concept as an intelligent enabler to support a broad spectrum of TeleCare and TeleMonitoring services and scenarios. These solutions enable medical and elderly care service providers as well as TeleCare centers new possibilities for its competitive differentiation in patient services – stationary and mobile: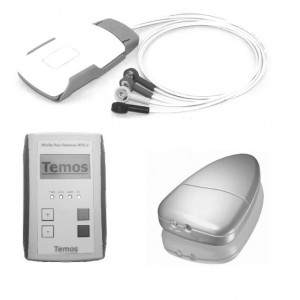 Compatible with existing tele medical devices, home emergency and tele care systems and software products.
Multifunctional

for mobile & flexible use
at home & on the move
stationary & at point of care

with advanced features

wireless & interoperable
modular & customizable
remote controlled
care-trigger-mechanisms inside

Simple and secure
Easy to install and instantly operational
Fully automatic data transfers, as soon as a patient's measurements and records are taken
Depending on the infrastructure given at the patient's, various gateways and pathways of data transfer and processing are possible
Data is saved at the Temondis data center and can be accessed at any time if needed. Specially developed security concepts are responsible for highest data security levels
Open and flexible platform for the implication of various measuring devices and cooperates with several partners and providing several interfaces
Customizable & connectivity: Other devices can be implemented according to customer's requests. Furthermore, our system features an open platform to include various IT and data systems (e.g. ePR eletronical Patient Record, HIS Hospital Information Systems, Call Centre software, etc.)
Fields of application:
Using telemonitoring for long-term care and improvement of health status is becoming more and more common. Successful fields of application are:
Cardiac insufficiency
Hypertonia
Adipositas and excess weight
Type 2 diabetes
Metabolic syndrome
COPD
Complications during pregnancy


Additional fields of application are:
Compliance Management
DMP – Disease Management Programs
Health Tourism
Post OP and post dispatch services after hospital stay.
Rehabilitation
Elderly Care
AAL – ambient assisted living
For further information please do not hesitate to contact us .