Business Development
The tele.* market step by step will create new segments with huge potentials – and a lot of challenges combined with a broad spectrum of players and topics as well as stakeholder, gatekeepers, drivers, enablers, barriers, obstacles… – also for your business model and success…!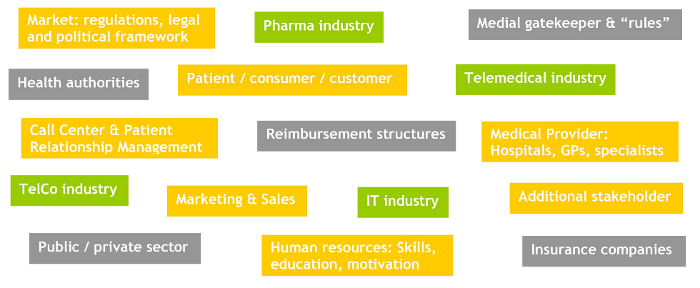 Together with Temondis and its international network of selected telemedical experts our customers benefit from more than 10 years experience in the international tele.* arena.
The main aim in ourbusiness engineering and business development consultancy is to support and guide you how to define, start and launch your tele.* services, how to use synergies out of the market's stakeholders and how to create a long term successful business.
To reach these goals, Temondis creates benefits and USPs from know how and expertise, products and solutions, services and process competence and generates value strategies and business models for its customers.
Some examples of our work packages:
Tender Submission
Pushing already existing telemedical services, devices or products
Analysis and reengineering of existing tele.*-services
Management support regarding technical and organisational issues as well as staffing and HR-issues